Weather and Birdfeeding
Birds Will Still be Out Eating During

RAIN, WIND & SNOW!
KEEP IT FRESH, KEEP IT DRY!
If You don't want to drink or eat it, Why Should they?
RAIN & SNOW CONSIDERATIONS
Without Weather Protection:
Seed, Cylinders and Suet would get wet, fall apart or become unsanitary for birds
Nectar, Fruit, Jelly and Mealworm Feeders would get diluted and washed out
TO LIMIT THE EFFECTS OF WEATHER ON YOUR FEEDERS
Feeder Placement
Under Eaves, Overhangs, & Patio Covers
Under Trees - can still get wet during heavy storms
OR Bring in Feeders during severe weather
Domes & Weather Shields
Protects feeders from downward falling rain
Allows more freedom of feeder placement in yard
Built in with some feeders and available for a variety of feeder types.
Size diameters will vary and may not provide complete coverage over larger tray feeders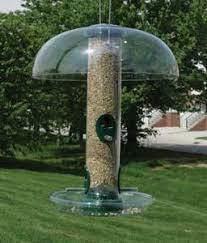 Strong Winds
Secure Domes: Tie or clamp down domes
Remove Domes - should feeder allow, if not raining
Move feeder to more wind sheltered area
Bring in feeder
Wind & Rain
During periods of both wind and rain - even the best covered outside feeder may still get wet
Feeder Check After Storm (regardless of its location)
Seed Feeders
Check to see how much seed got wet buy pouring seed into a container (loose seed flows, wet seed clumps)
If seed is in clumps or wet: discard seed , clean & dry feeder, then refill with fresh dry seed
Clean drainage holes in seed trays - they may get clogged allowing water to puddle
Tray Feeders
Rain may have gotten in between screens and feeder edges - remove and clean trays plus surrounding areas
Tray Screens - wet seed may get caught up in the screen reducing water drainage - clean screens to open drainage holes
Cylinders, Stackables & Cakes
If it has swollen in size or fell apart - discard and refill with fresh food items
Clean any drainage holes to avoid puddling
Nectar, Fruit, Jelly & Meal Worm Feeders
Check all nectar feeders for any debris or runoff from nearby overhangs - if in doubt replace and refill with fresh nectar
Jelly and mealworm feeders can get washed out during heavy rains, even with weather domes
- replace and refill with fresh food items as needed
REMEMBER - IF YOU DON'T WANT TO EAT OR DRINK IT, DON'T ASSUME THE BIRDS WILL!!
KEEP IT FRESH, KEEP IT DRY!!