FOUND A SICK, INJURED, OR ORPHANED BIRD?
PLEASE SEE OUR BIRD REHABBER LIST
WE CANNOT TAKE IN BIRDS AT THE STORE!
Attract Everyone with Water!
All birds need water! While bird feeders attract a good variety of birds they don't attract everyone, WATER DOES! Birds that don't visit bird feeders such as Cedar Waxwings and Western Tanagers will visit water features in your yard. Entice them to visit your yard by providing water fountains or bird baths. It's also lots of fun! Enjoy the show as birds splash and play or simply stop by for a quick drink or dip.
The key is to keep the water fresh and preferably moving. While resident birds tend to know where local water sources are, moving water gets the attention of those birds passing through the area.
Water is also important for helping birds to maintain their feathers and regulate body temperature.
Be sure to include this fun, but very important, feature in your yard.
FOUNTAINS
Fountains, with their moving water attract a great variety of birds. We have seen a great variety of birds utilizing water fountains including Hummingbirds, Orioles, Scrub Jays, bluebirds, and Goldfinches. Our aim here to offer fountains that are shallow and have areas where birds can cling to the sides to comfortably drink and bathe.
Electric pumps are included with all fountains and colors will vary.
To see all fountains options click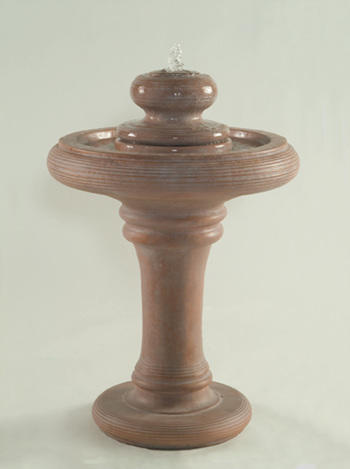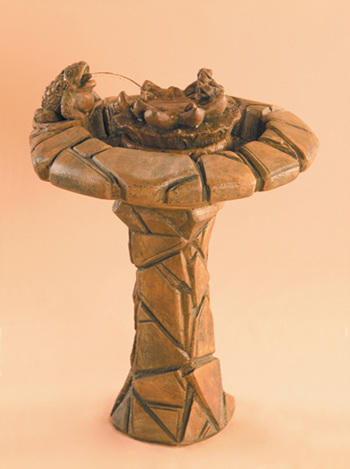 BIRDBATHS
While moving water is ideal any water is welcome.
To see all birdbath options click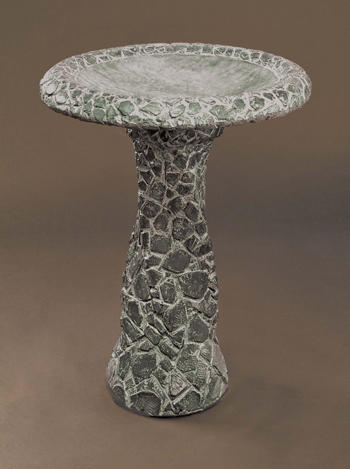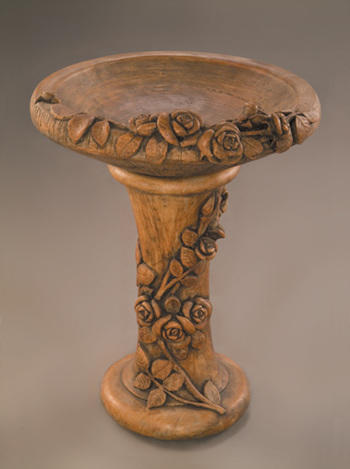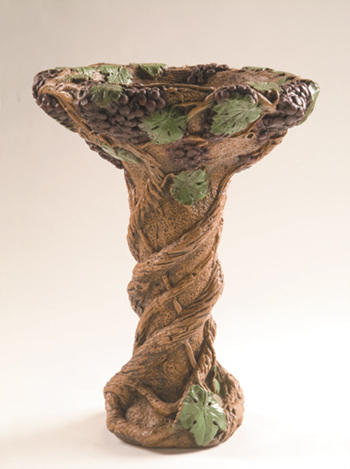 Add moving water to your existing Birdbath with Water Wigglers, Solar Bubbler's and Drip or Mist
Water Wigglers
Water Wigglers sit in the bird bath and gently move the water making your bird bath more attractive to birds in your yard.
There are two Options available: Battery Operated and Solar. Battery operated Water Wigglers require two D cell Batteries.
Solar Water Wigglers need FULL SUN to work. Will not work in shade.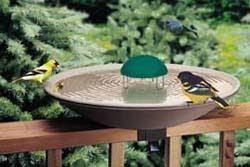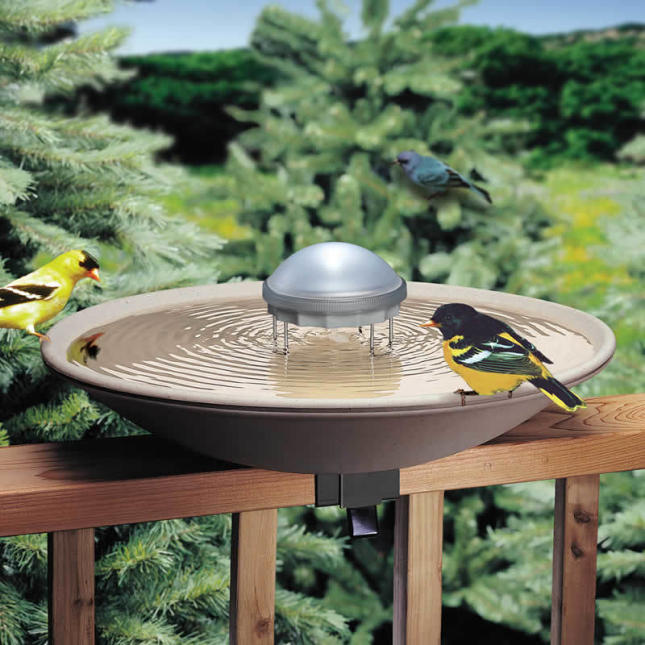 Add more movement with Solar Bubbler's and Drip or Mist.
Solar Bubblers sit in the bird bath and bubble up water with a variety of nozzles to choose from.
They need FULL SUN to work. Will not work in shade. Don't let dry out
Drip or Mist attaches to existing bird baths, and is connected to the garden faucet and have either a drip or mist option to make your yard more appealing to local birds, including hummingbirds.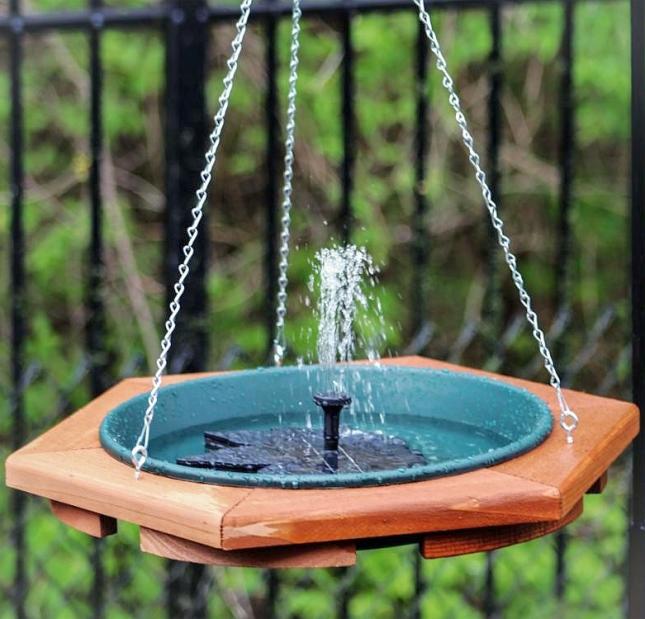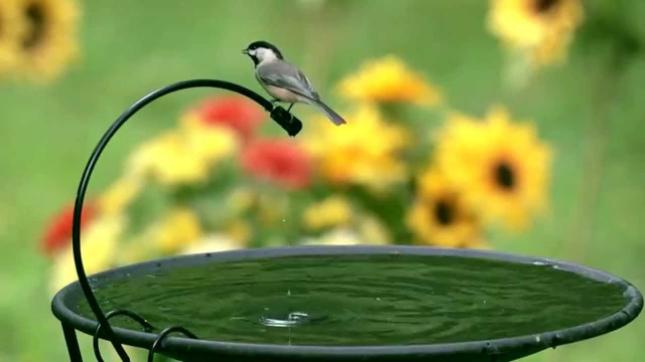 Birdbath and Fountain Maintenance
Don't forget to keep your bird baths and fountains clean and free of debris, algae and mosquitoes.
For birdbaths without moving water it is suggested to dump out and refresh the water at least once a week to stop mosquitoes from using it to breed.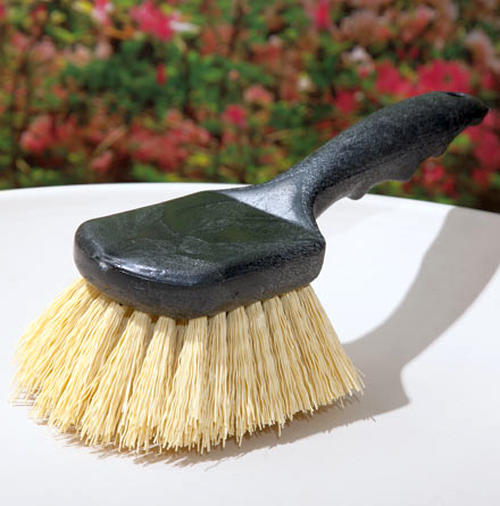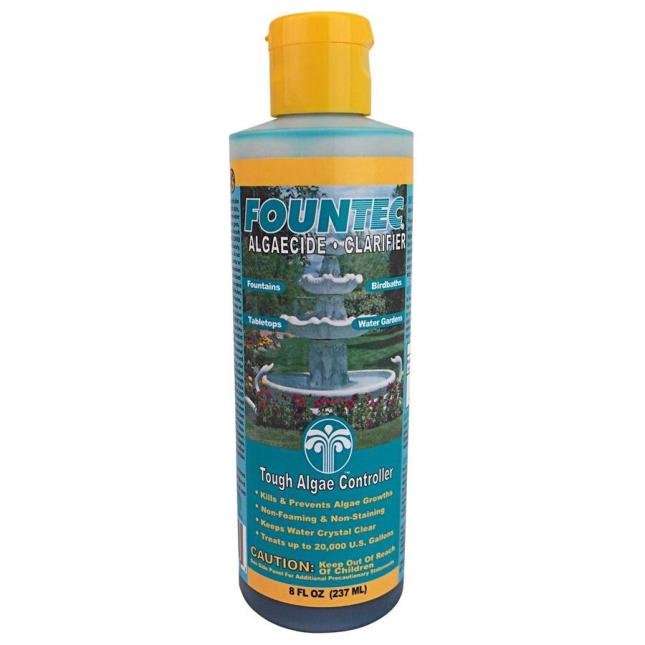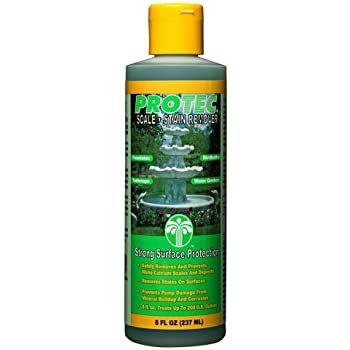 Both Fountec and Algecide are safe for birds when used in birdbaths and fountains when used as directed.
Fountec Algecide & Clarifier kills and prevents algae growth, keeps water mosquito free, is non-foaming and non-staining, keeps water crystal clear in your bird baths and fountains.
Protec Scale and Stain Remover prevents white calcium scales and helps remove existing deposits, removes stains on surfaces, and prevents pump damage from mineral buildup and corrosion.