Show Your Birds Some Love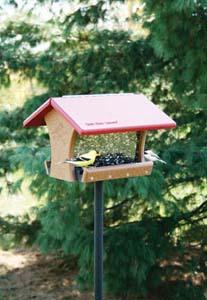 So what does a month filled with Cupid, hearts, candy and roses have to do with your birds? Everything.
February is National Bird Feeding Month, and the 14th Annual Great Backyard Bird Count (GBBC) occurs February 13 - 16.
Wild Birds Unlimited is a proud, major sponsor of this joint project between the Cornell Lab of Ornithology and the National Audubon Society. The GBBC links people like you with scientists to collect important data about birds.
Participating in the GBBC is simple. Just count the birds in your yard, and report that information online at:
This site gives instant feedback through graphics, animated maps and other regularly-updated information. This extensive information helps scientists better understand trends in bird populations, range expansions, habitat changes and migration patterns.
Ultimately, that helps with bird conservation efforts and the birds visiting your backyard.
This is a fun, educational opportunity for you and your family.
Not only do you get to feed and enjoy your birds as you normally do, but you also get to be a part of a scientific study that makes your birds and your backyard count.